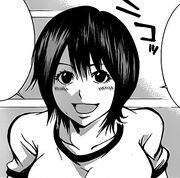 Nishioka was elected in the twenty-first round of the foot race, along with Bandou Junko and
Kris
, to be in the fourth lane. Before the game starts, she expresses her admiration to Cristal A, who will be running in the lane next to her, and tells him she is a huge fan, as well as giving him her adress. Kris responds that he "will have to sing her a lullaby to sleep" but later on she is pushed by Junko and Kris leaves her behind in order to save his own life.
She was one of the survivors from
cube 101
, along with Sara Ryou.